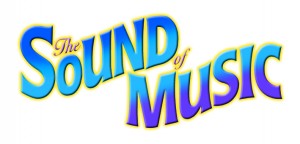 23 January 2012
I've heard of dancers marrying stage managers. I heard of crewmembers marrying leading ladies.  I've many times heard of choreographers marrying directors but a choreographer marrying a director on the set of the show, in the theatre, two weeks before opening night?  That's dedication!
There is no doubt that director Brian Logan was in a romantic frame of mind for Ballywillan Drama Group's production of The Sound of Music. The chemistry between stuffy old Captain Von Trapp (Alan McClarty) and Maria (Laura Douglas) was mind blowing; a wonderfully heated argument; a series of does he-doesn't he moments; a woman scorned and an innocent feisty nun desperately deluding herself she's not in love. Ah. The Sound of Music what's not to love?  I smiled like a fool throughout some of the numbers.
I was totally taken in by the children. Dotes. Their rendition of  "The Sound of Music" was utterly beautiful; Ashling Reynolds voice as eldest sibling Liesl blended perfectly with her sister Louisa's (Amy Rankin). All of the children could sing, and there was no compromise on cuteness either; Gretl (Anna McGinley) evoked many a tear when she sang us "Goodbye" at the end of a tiring party. Marta (Niamh Cunning) was equally talented as were the boys Sam Magilton and Jack Ferguson playing Friedrich and Kurt, while Annie Levy as perceptive Brigitta delivered her lines with confidence!  The children worked really well together and choreographer Sharon Logan ("the missus") had an eye for drama; starting with "Do Re Mi" appearing as if it were in the schoolhouse, to a delightful rendition of "Lonely Goatherd" with a full family of puppets created by props mistress Karen Hunter and cleverly incorporated into the action.
Ms Reynolds' Liesl was certainly cast well as the girl on the cusp of womanhood; "Sixteen Going on Seventeen" with Adam Goudy's Rolf had just the right balance of innocence and daring, with sweet flirtations and a stolen kiss.  Ms Reynolds' singing was wonderful too and highlighted wherever possible by MD Eric Boyd, whose band well supported a strong chorus of mostly women, doubling as nuns and lovely ladies giving the make up department a run for their money.  While I would possibly question the use of additional entrances and exits through the auditorium in places, I did enjoy Mr Logan's style and interpretation.
The Captain's grief was given attention, particularly through his unlikely relationship with Elsa, charmingly played by Maxine McAleenon; he is more at ease with her and the clownish Max (David Ferguson), but there is an obvious underlying desperation to be distracted by anything other than face his demons. It's a pity in a way that the show doesn't go deeper into this grief, especially in this production, as Mr McClarty played the part so naturally.
Laura Douglas openly portrayed the unwelcome emotions experienced by Maria, and the blossoming relationship had real credibility. (Spontaneous applause when they finally kissed.) This would have delighted Sr. Margaretta, played with subtle humour by Evie Ferguson, indeed all the nuns worked well together and "Maria"  was an enjoyable highlight along with cranky Sister Berthe (Louise McClarty) and Sr Sophia (Margaret Brownlow).
The Mother Abbess? Practically beatified: "Climb Every Mountain" exceeded expectations; Olive Hemphill's beautiful voice rang out brilliantly to a rousing audience reaction. It couldn't all be sweetness and light of course, and just when Georg and Maria thought it was safe to settle down, along came the Nazis (now here was a good place to have them traipsing through the aisles, unsettling the audience). Harry Stinson played the nasty villain Herr Zeller with zeal, and I suspect pompous butler Franz (Tom Waddell) was not far behind him. A solid performance too from Audrey Branagh as Frau Schmidt.
Brian Logan was also responsible for the set and lighting design, which not only looked impressive but allowed for smooth scene changes under the management of SM David Wray. The Abbey was resplendent with arches and wrought iron gates, stonework and large looming windows.  The Von Trapp house was grand, with lighting announcing whether it was day or night, stormy or fine.
What a team! And I believe there was a second group of talented Von Trapps who played alternate nights (Leon Woods, Hannah McAleenon, Jasmine Gardiner and Erin Wilson).  Word is, they were just as good! Collaborative efforts? Between Mr and Mrs Logan and the rest of the production team, they are to be congratulated on a fine production.  Oh, and on their recent wedding: may they live happily ever after!
Emer Halpenny
AIMS Adjudicator (Gilbert)