The AIMS Award Nominations were announced
on Sunday 20th of May in St Michaels Theatre, New Ross, Co Wexford.
We are extremely grateful to receive 2 nominations for our
2018 Productions of MY FAIR LADY & LES MISERABLES SE.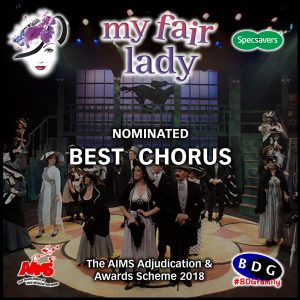 Our first nomination was for BEST CHORUS in MY FAIR LADY, perfromed in January 2018.  Adjudicator, Ciarán Mooney, wrote in his review; "Each and every person who appeared as part of the ensemble was full of character and brought their acting skills to create engaging crowd scenes. The transition from street-workers to aristocratic society people to subordinate household staff was very well achieved. Each time the chorus appeared, it was a joy. The energy, commitment and pace of the front-line never lulled, as they dynamically drove the narrative forward with competence and skill, culminating in a great night's entertainment."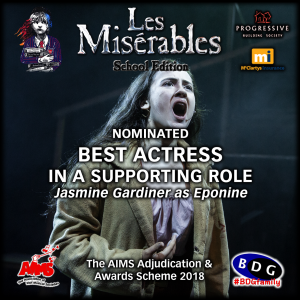 Our second nomination was an individual nomination for BEST ACTRESS IN A SUPPORTING ROLE, and went to JASMINE GARDINER in her role as EPONINE. "Jasmine Gardiner was awesome as Eponine, giving us an outwardly tough but secretly very vulnerable character. In so many ways she is the hero of the piece, selflessly ensuring Marius' happiness, to her own detriment and tragedy. Her partnership with him was gorgeous and we could not help but wish that things had been different between the two of them. Her 'On My Own' was brilliantly performed and the song 'A Little Fall of Rain' in which she dies was excellently measured; not too over-the-top, mixing the performance of the beautiful score while the life force leaves her body. This was a star-turn."
The AWARDS CEREMONY will take place on Sat 16th June 2018 in the Gleneagle Hotel / INEC Killarney.