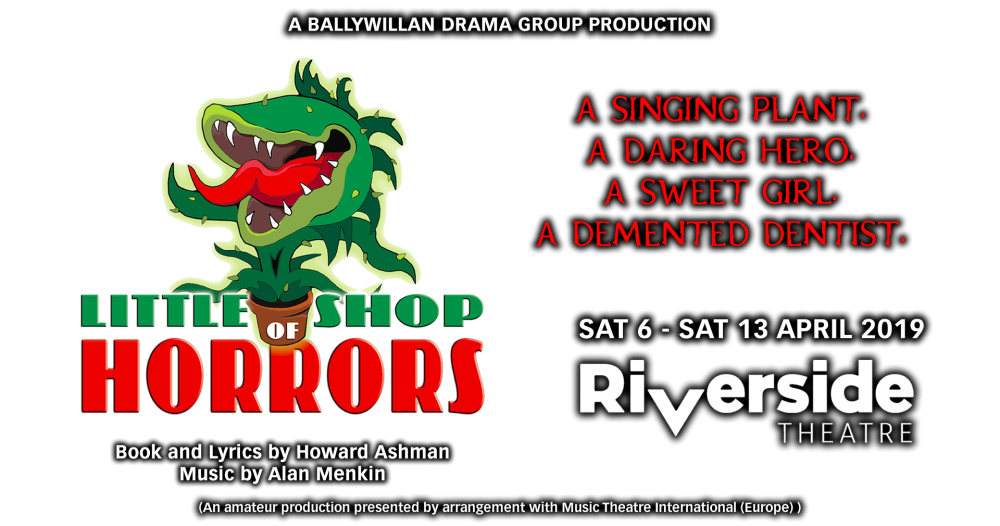 Two months after the most fantasmagorical expierence,  Chitty Chitty Bang Bang, we are back at the Riverside with a brand new production of the charming, kooky and hilarious musical comedy Little Shop of Horrors.
A must see for the entire family this deviously delicious  musical has devoured the hearts of theatre goers for over thirty years and is a classic musical of sublime ridiculousness.
Featuring many of the stars of Chitty the musical tells the story of Seymour who happens upon a strange plant, which he affectionately names "Audrey II" after his shop co-worker, who he is secretly in love with.  Little does he know that his unusual plant has a few surprises in store!
Little Shop of Horrors is that rare theatrical beast – a chance for the actors, and audience, to relax and totally enjoy themselves!
For a happy, moving, funny and top quality evening at the theatre, full of great music and songs, book your seats now for Ballywillan Drama Group's superb musical comedy.
(An amateur production presented by arrangement with Music Theatre International (Europe) )